Description
✅ FIGHTS AGAINST AIRBORNE VIRUSES – Revolutionary Nasal Spray with the power of molecular iodine. The world first nasal spray with molecular iodine (20microgram/ml)!
✅ BREATHE FREELY – Clear out the clogged airways in seconds. This sea salt water spray helps provide nasal congestion relief and loosen mucus that blocks the nasal passages. A decongestant nasal spray to wash out irritants and hydrate nasal tissues.
✅ CLINICALLY TESTED! MOLECULAR IODINE with FULVIC ACID offers the benefits of both substances.
✅ NATURALLY DISINFECTS, moisturizes and clears nasal congestion and also PROTECTS nasal mucosa.
✅ HELPS with Sinonasal diseases, Rhinosinusitis Rhinitis, and Adult Sinusitis. and Nasal Polyps, allergenic and non-allergenic Rhinitis, Adult Sinusitis.
✅ SAFE FOR DAILY USE – This gentle seawater nasal spray only uses natural sea salt and sterile water enriched with Iodine. It is free from chemicals, colorants, gases or preservatives. Suitable for vegans, children, adults, women who are pregnant, and people with thyroid problems.
✅ IODINE-V – A safe, highly antiviral, organic patented substance. Stable, non-allergenic, non-irritative Fulvic Acid complex, only 0.02% added to seawater. PLOS ONE article: 0254341.
✅ 1 Fl Oz – Easy to carry, convenient size for travel. 1 month supply.
✅ NO gas, colorants, or preservatives, Vegan friendly.
✅ DOSAGE: 2-4 times a day (or as frequently as needed)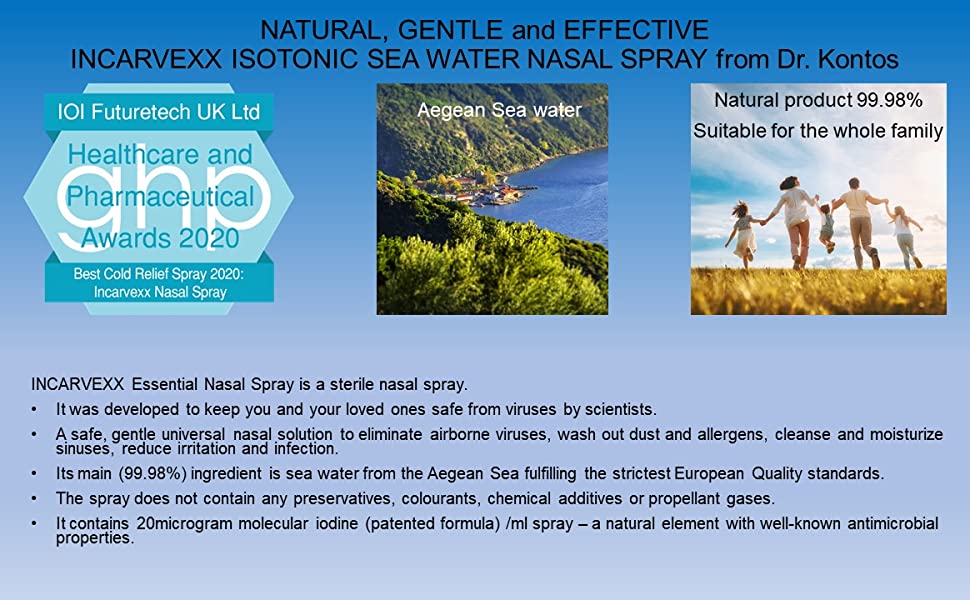 What makes Incarvexx Nasal Spray unique?
The motto: Prevention is the best treatment.
INCARVEXX Essential Nasal Spray is developed by scientists and a Greek nasal spray manufacturer (Athomer All Natural Nasal Sprays). It contains sea water and a patented complex called Iodine-V (a fulvic acid and molecular iodine complex) and nothing else.
INCARVEXX Nasal Spray only contains 20 microgram molecular iodine/ml.
There are thousand of studies and researches about molecular iodine and its naturally antiseptic properties. In addition there are science articles about Iodine-V and it's superior features compare to other iodine products. Iodine-V is also used in Dr. Kontos' Essential Iodine Drops (a dietary supplement).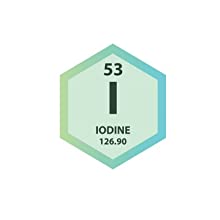 Protect yourself and your family
Iodine-V is antiseptic by nature.
Iodine-V molecules effectively destroy airborne viruses, the results are published in PLOS ONE.
Transparent, no stain, natural, non-allergenic, no irritation, no adverse reaction.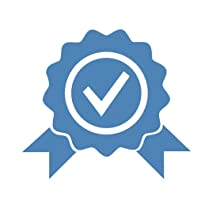 Quality ingredients and packaging
Sterile sea water from the most beautiful sea,
Rich in minerals, which naturally help healing,
Only 2 components (Iodine-V and sea water),
Isotonic spray.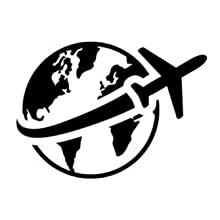 Perfect size for travel and for everyone
35ml bottle – handy size to take it with you.
Suitable for vegans, children, adults and during pregnancy.
It does not cause dizziness, can be safely applied orally as well.
Use: 1-4 times a day or as frequently as needed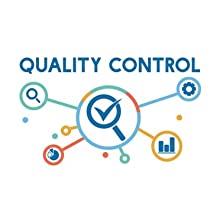 Strictest Standards Applied
GMP product with ISO 9001:2015 manufacturing
UV and Gamma sterilization
Medical Device Cat 2a
Tests:  CYTOTOXICITY / IRRITATION
SENSITIZATION / CLINICAL TEST