Description
Dr. Kontos Iron Drops – FULVIC Acid with Fe2+ an Organic Complex Vital for Blood Forming, Vitality, Energy Release – Vegan Friendly Formula – 1 Fl Oz
Essential Iron Drops is an advanced organic water soluble IRON (Fe 2+) supplement NON-ALLERGENIC.
✅ SUPPORT NATURAL ENERGY PRODUCTION – Many people today don't get enough minerals from their diet, resulting in various health issues. Our Iron supplement with fulvic acid (patented form) makes a perfect complement to any diet!
✅ CONTRIBUTE HEALTHY IMMUNE FUNCTION – Iron is well-known to boost immune system, and can be found in every cells.
✅ HIGHEST STANDARDS OF QUALITY – A superior organic formula. Our Drops are non-GMO and VEGAN-friendly! Enjoy overall WELLNESS.
✅ MAINTAIN BLOOD OXYGEN LEVEL – Iron plays vital part in red cell and haemoglobin formation. Essential Iron Drops are very gentle to stomach.
✅ ORGANIC COMPLEX – our drops deliver the trace minerals in the preferred form for your body.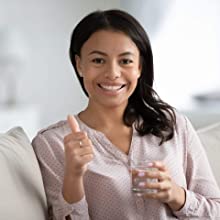 1 bottle is approx.1 month's supply (600 drops)
✓ INSTANTLY ABSORBING DROPS
✓ NO CONSTIPATION
✓ Safe and pure
✓ Suitable and recommended during pregnancy
Suitable for Vegans, FREE from alcohol, GMO, preservatives, sweeteners, gluten.
Ferrous (Fe +2) forms are more soluble than the dietary ferric (Fe +3) form, with twice the absorbability!
Iron can be found in every cells. Symptoms of  anaemia include:
FATIGUE/TIREDNESS/LACK of ENERGY
HEART PALPITATIONS
 WEAKNESS
 DIZZINESS
 DIFFICULTY in CONCENTRATING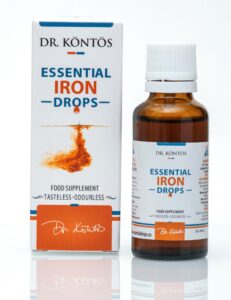 Causes can be:
 Pregnancy and breastfeeding
 Menstruation
 Cancer in Digestive Tract
 Peptic Ulcer Disease
 Blood loss  
Our Essential Iron drops is the fastest absorbing Iron (Fe +2) supplement in the world, a water-soluble complex.
A stable liquid solution, controllable doses. 
Food supplements should not be used as a substitute for a varied and balanced diet and a healthy lifestyle.
Daily recommended dose:
Women aged 19 to 50: 14.8mg a day
Men over 18:  8.7mg
During pregnancy:  27mg  a day
Essential Drops by Dr. Köntös for you and your family.
Use our organic drops on a daily basis to maintain your health and appearance!
Your wellbeing is important, using our fulvic acid complexes will benefit you from day one.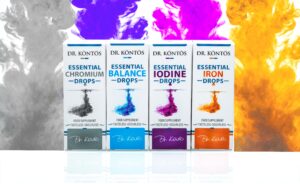 Check our product catalogue IOI Product catalogue 2021