Description
Dr. Kontos Iodine Drops, a FULVIC Acid Supplement for Metabolism & Thyroid Balance – Promotes Healthy Hair & Skin – Vegan Friendly Formula – 30 ml/ 1 Oz
✅ BOOST IMMUNE SYSTEM and COGNITIVE FUNCTION – Iodine prevents immune system from being weakened by free radicals and supports the healthy function of the nervous system and cognitive functions, including focus and memory. Iodine is a booster of the immune system as being an antioxidant (molecular iodine). 200 microgram iodine/ml! A pure solution. Without overloading the body with potassium or iodide. It does not hurt the throat!
✅ SUPPORT THYROID FUNCTION – Do you struggle with weight management? It may be due to imbalances in the thyroid gland. These pure iodine drops can help get your metabolism back up to normal levels. The ONLY PURE MOLECULAR iodine supplement worldwide (no unnecessary potassium,  iodene or iodide). ORGANIC COMPLEX -exactly what is your body needs. NON-TOXIC and NON-ALLERGENIC.
✅ KEEP SKIN & HAIR HEALTHY – Iodine is important for hair growth, making it a must-have mineral for anyone who wants gorgeous, flowing locks. It also helps rejuvenate your skin and fight dryness!
✅ Helps when feeling FATIGUED, having MOOD SWING and having not lifestyle related WEIGHT PROBLEM.
✅ ADVANCED FORMULA – INSTANT ABSORPTION – You will feel the difference  next day! A superior formula to Nascent, Povidone and Lugol's Iodine.
✅ ENJOY OVERALL WELLNESS – Adding more essential iodine to your diet has great benefits for your liver and kidneys. It also indirectly aids tissue repair, mood balance, and cognitive development.
✅ IODINE-V – A safe, highly antiviral, organic patented substance. Stable, non-allergenic, non-irritative Fulvic Acid complex, only 0.02% added to seawater. PLOS ONE article: 0254341.
***Tested by The Institute for Antiviral Research at Utah State University –  It can also be used as oral wash (however it's worth much more). Research shows that it can promote kidney and liver health, while also supporting visual function and tissue repair. Combined with its importance to thyroid function, iodine helps you maintain all-around wellness. It's also a great supplement during pregnancy, since iodine is essential for a baby's brain development!
MAINTAIN A STRONG METABOLISM
Essential Iodine Drops work as a trigger, even for chronic CONSTIPATION. Have you been finding it difficult to keep the pounds off, even though you exercise regularly and watch what you eat? Chances are, the problem may not be due to lifestyle factors. Thyroid function is also closely linked to your body's metabolism, which is why any imbalances can result in unexpected weight changes. These iodine drops may help restore your metabolism to its normal state!


Essential Drops by Dr. Köntös for you and your family.
Use our organic drops on a daily basis to maintain your health and appearance!
Your wellbeing is important, using our fulvic acid complexes will benefit you from day one.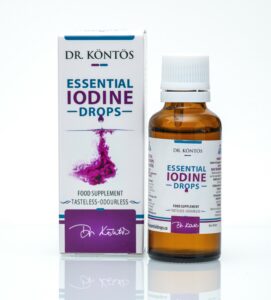 Only 2 components (Iodine-V and purified water).
Iodine is needed by all organs.
Our organic formula (Iodine-V) is superior to Nascent, Povidone and Lugol's Iodine.
Some of the benefits:
Immune system booster via thyroid support
Support metabolism (gaining weight/constipation)
Healthy skin and hair
Benefits liver and kidneys
Balancing mood/Depression
Cold hands and feet
Boost cognitive development and also antiseptic by nature
Essential Iodine Drops are the ONLY pure elemental iodine supplement globally – NON-ALLERGENIC.
1 bottle is  approx. 1 month's supply (600 drops)  30ml/1 Fl Oz.
    Suitable for vegans, no GMO, FREE from alcohol, preservatives, sweeteners, gluten.
✓ INSTANTLY ABSORBING FORMULA – tasteless, odourless, transparent
✓ EXACTLY 10 microgram elemental Iodine (I2) in 1 drop – you are in control
✓ Developed to help those suffering from iodine deficiency (2 billion people worldwide – WHO's data)
✓ Safe and pure – it occurs naturally in the body and is necessary for thyroid function
✓ Suitable and recommended during pregnancy, supports the children's normal development
✓ Daily recommended use is 10-15 drops for adults and 20-22 drops during pregnancy
Iodine is naturally antiviral and antibacterial  – you can safely use it orally or on skin and on surfaces.  Patenting in process.
Elemental Iodine is
* vital for the HEALTHY THYROID functions which in turn aids TISSUE REPAIR, regulates METABOLISM  and promotes normal GROWTH and DEVELOPMENT.
* Essential for HEALTHY HAIR and SKIN
* Promotes DETOXIFICATION (kidney and liver)
* Critical in maintaining VISUAL function and EYE MOISTURE
Slowed down METABOLISM causes WEIGHT GAIN / OBESITY (NOT lifestyle related)
IODINE DEFICIENCY is linked to DEPRESSION / MOOD CHANGES and TIREDNESS (FATIGUE)
Iodine plays vital roles in children's development:
WHO:  Young children are also particularly at risk because the brain still needs iodine for its development during the first two years of life. In addition, iodine deficiency in children is responsible for disorders in physical and cognitive development  and hypothyroidism.
All information on the website used WHO and National Institute of Health data.
Our Essential Iodine Drops is a food supplement.
Food supplements should not be used as a substitute for a varied and balanced diet and a healthy lifestyle.
Daily recommended dose:
Adults 19 +: 10-15 drops
Children from newborn to 19 years old: up to 10 drops
During pregnancy or if breastfeeding: up to 22 drops
PLEASE NOTE that OTHER iodine products DO NOT CONTAIN purely ELEMENTAL (MOLECULAR) IODINE – they contain iodide and iodate – not the preferred forms for the body. A stable, ORGANIC liquid solution (can be stored for years), controllable doses. 
Essential Drops by Dr. Köntös for you and your family.
Use our organic drops on a daily basis to maintain your health and appearance!
Your wellbeing is important, using our fulvic acid complexes will benefit you from day one.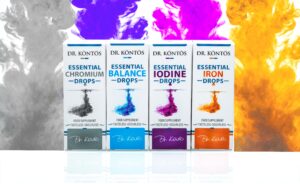 Check our product catalogue IOI Product catalogue 2021