Description
Dr. Kontos Balance Drops – FULVIC Acid with Trace Minerals to Boost Immune System, Support Body's Natural Defences – Vegan Friendly Formula – 1 Fl Oz
The fastest absorbing mineral balance drops containing water-soluble Zinc, Manganese, Molybdenum, Copper, Selenium, Vanadium, Chromium and Boron.
ESSENTIAL BALANCE DROPS DO NOT increase your appetite and DO NOT cause blurred vision, inability to concentrate or dizziness.
✅ SUPPORTS NATURAL ENERGY PRODUCTION – Many people today don't get enough minerals from their diet, resulting in various health issues. Our Balance supplement with fulvic acid (patented form) makes a perfect complement to any diet!
✅ BOOSTS HEALTHY IMMUNE FUNCTION – Zinc, Selenium are well-known to boost immune system, however Chromium, Boron and the others are also needed to facilitate normal enzyme production.
✅ HIGHEST STANDARDS OF QUALITY – A superior organic formula to boost your immune system and to help recovering from surgery or sickness. Our Drops are non-GMO and VEGAN-friendly! Enjoy overall WELLNESS.
✅ MAINTAINS BLOOD SUGAR LEVEL WITHIN NORMAL RANGE – Our drops contain also trace minerals to maintain healthy blood glucose concentrations.
✅ ORGANIC COMPLEX – our drops deliver the trace minerals in the preferred form for your body.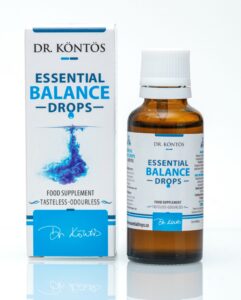 20 drops contains
Zinc 3.75mg, Manganese 0.31mg,
Molybdenum 0.19mg,
Selenium 0.012mg,
Vanadium 0.12mg, Copper 0.25mg,
Chromium 0.018mg and Boron 0.10mg.
Daily recommended dose:
10-20kgs: 5 drops a day
20-40kgs: 10 drops a day
40+ kgs: 20 drops a day
Children under 10kgs – Please consult with your doctor/GP
Essential Drops by Dr. Köntös for you and your family.
Use our organic drops on a daily basis to maintain your health and appearance!
Your wellbeing is important, using our fulvic acid complexes will benefit you from day one.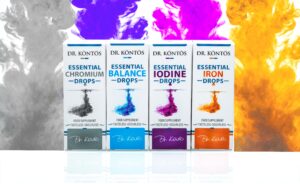 Check our product catalogue IOI Product catalogue 2021